RotoLab 2022 Draft Software Review
In my research of fantasy baseball draft tools, RotoLab is perhaps the most consistent recommendation. Despite a steep price tag of $69, it has a devoted following from over a decade of development.
Here's my review of RotoLab, as I build my own fantasy draft tool (DraftKick). Disclaimer #1: I'm not an unbiased reviewer. I'm building my own tool, which I hope does an even better job than RotoLab or anything else. So my "review" is mostly me asking:
What does RotoLab do well? DraftKick should do those things, too.
Where is bad about RotoLab? Those are places where DraftKick can stand out if it does better.
Disclaimer #2: I'm using the 2022 demo version of RotoLab, and I'm not an experienced user. It's possible that I might be misjudging some features, but I'm trying my best to evaluate it fairly.
Okay? On with the review.
Basic Usage
I found the draft controls in RotoLab to be pretty intuitive. Left-clicking on a player name selects the player and shows their info in the top section.
To draft a player, right click the player name and choose the drafting team. (For auctions, you also enter the winning bid.) If you right-click a player on the results views (Rosters, Picks), the menu instead gives you the option to "un-draft" that player.
By always specifying the drafting team, you can keep up with a draft even if you miss a pick or two: You can skip over the missed picks, leaving them blank and filling them in later. The downside is that two clicks are required for every pick: one to select the player and a second to select the team.
The results views also have a pretty good drag-and-drop interface. You can simply grab a player and move him to a different position or a different team.
The Five Views of a Fantasy Draft
I've suggested that there are really only five ways to view a fantasy draft:
Overall Players - a list of players (hitters and pitchers) with their stats, ranked by value
Players by Position - the "cheatsheet" view with positions across the top and players ranked in order of value
Rosters - a list of each fantasy team with the players drafted, sorted by position
Draft Board - a list of each fantasy team with players drafted, sorted by round
Standings - a common but not especially useful view of teams and their projected fantasy rankings
Simple draft tools will focus on a single view, while more complex software will show most or all of them.
Anyway, I think this these five views provide a good starting framework for evaluating a fantasy draft tool. Let's go through RotoLab with regard to each one.
Overall Players
In a draft, we want to see all of the players available with their relevant fantasy stats. So the overall player view is a pretty fundamental view.
So... Wait a second... How can I view all players with their stats in RotoLab? I...don't think this view is included in RotoLab.
For such a well-regarded tool, I'm a bit surprised by this omission. Everybody else includes this. I mean, it's the only option in the Razzball War Room!
RotoLab gets close to an overall player view, with a view of hitters or pitchers with their stats. (Even this could perhaps be separated better from the positional view, since many of the options and toggles seem to only work on one view or the other.)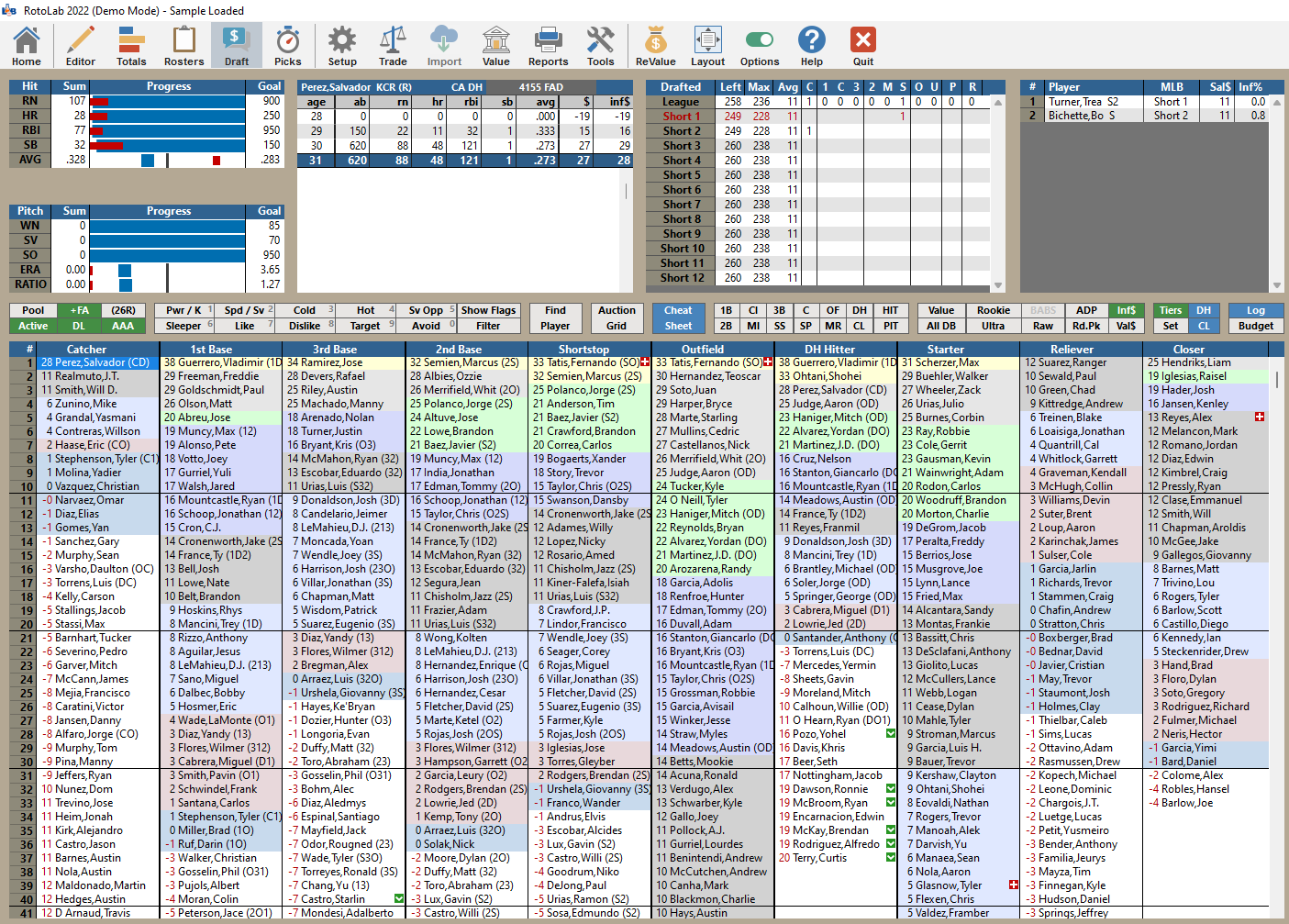 Players by Position
We're back on track, because RotoLab does have a positional view. In fact, it's their primary view of the draft.
They show tiers by color on "Cheat Sheet":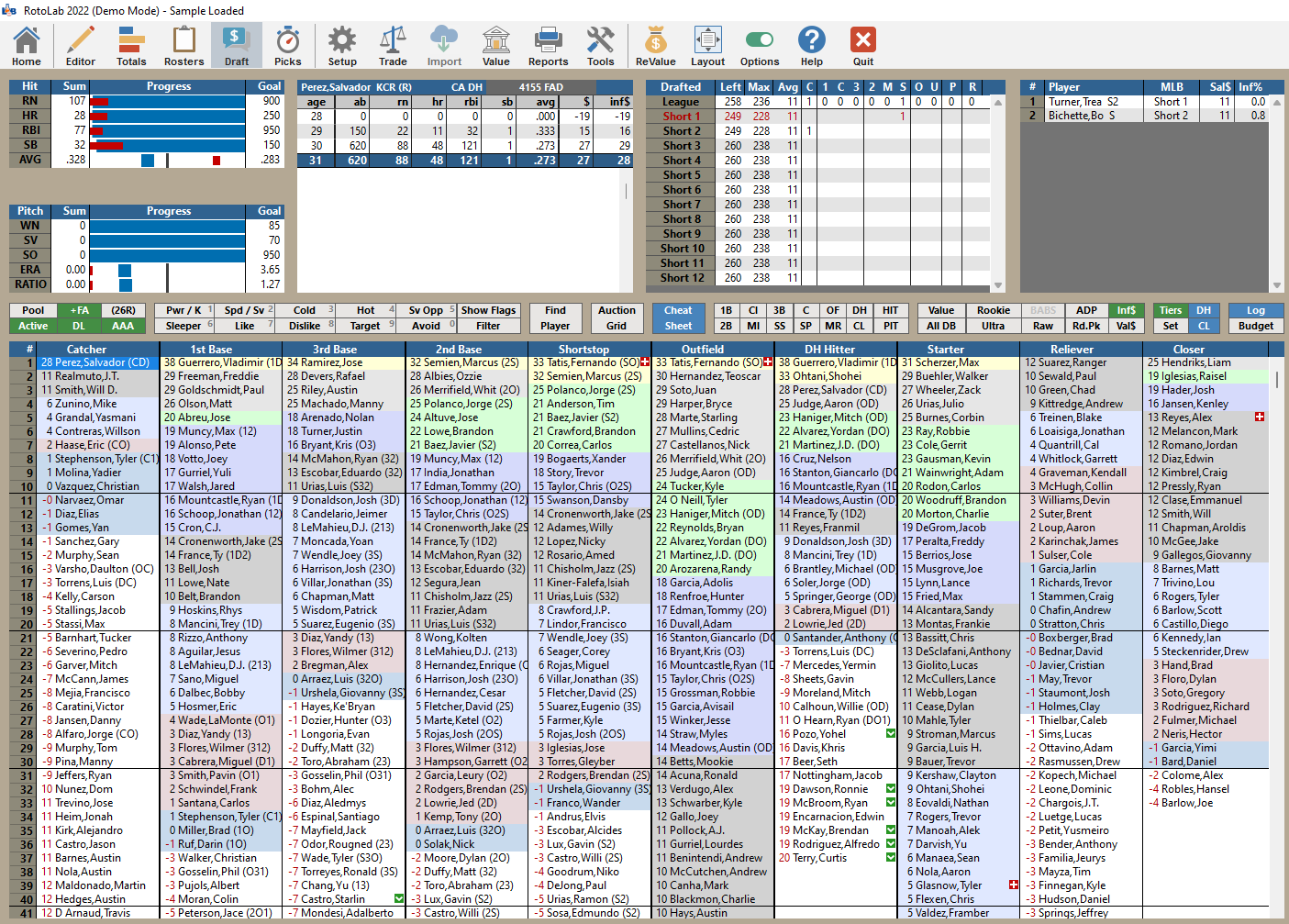 Which can also be arranged to show gaps in tiers on "Auction Grid":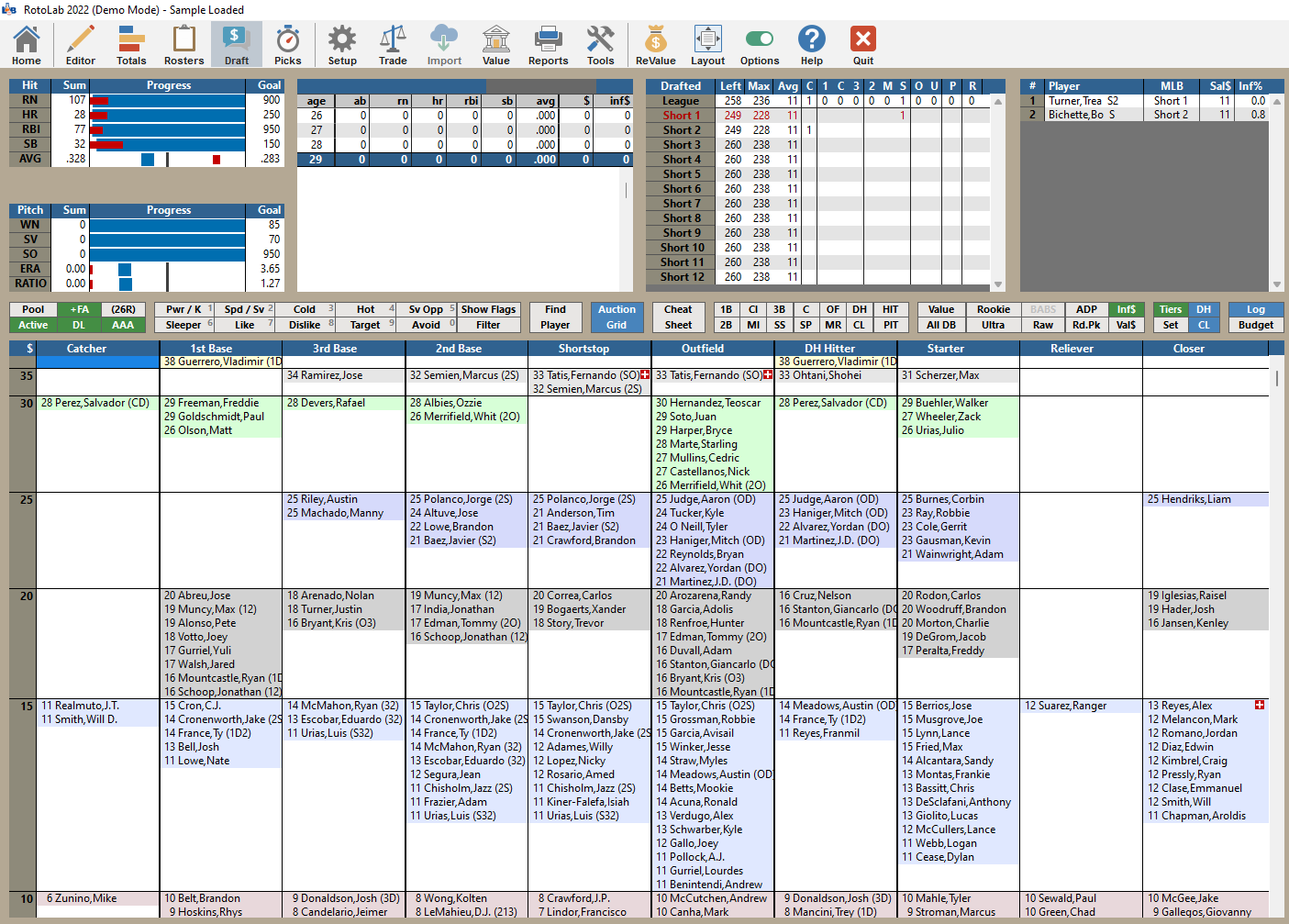 Good:
The "Auction Grid" is very well done. Useful not only for auctions but also for drafts.
Bad:
The configuration is really confusing at first. Everything is a button, but some buttons are mutually exclusive (turning on one turns off another) while others can be turned on together. Some only work in certain player views. Most affect the players below, but "Log" and "Budget" toggle the section above. Very unfriendly.
Oddly, the tier colors don't match between those two views...
Tiers top out at $35. If your league uses more than $260
Rosters, Draft Board, and Standings
These are simpler, so I don't need to spend much time on them. RotoLab has all three: Rosters are under "Rosters," the draft board is under "Picks," and the standings are under "Totals."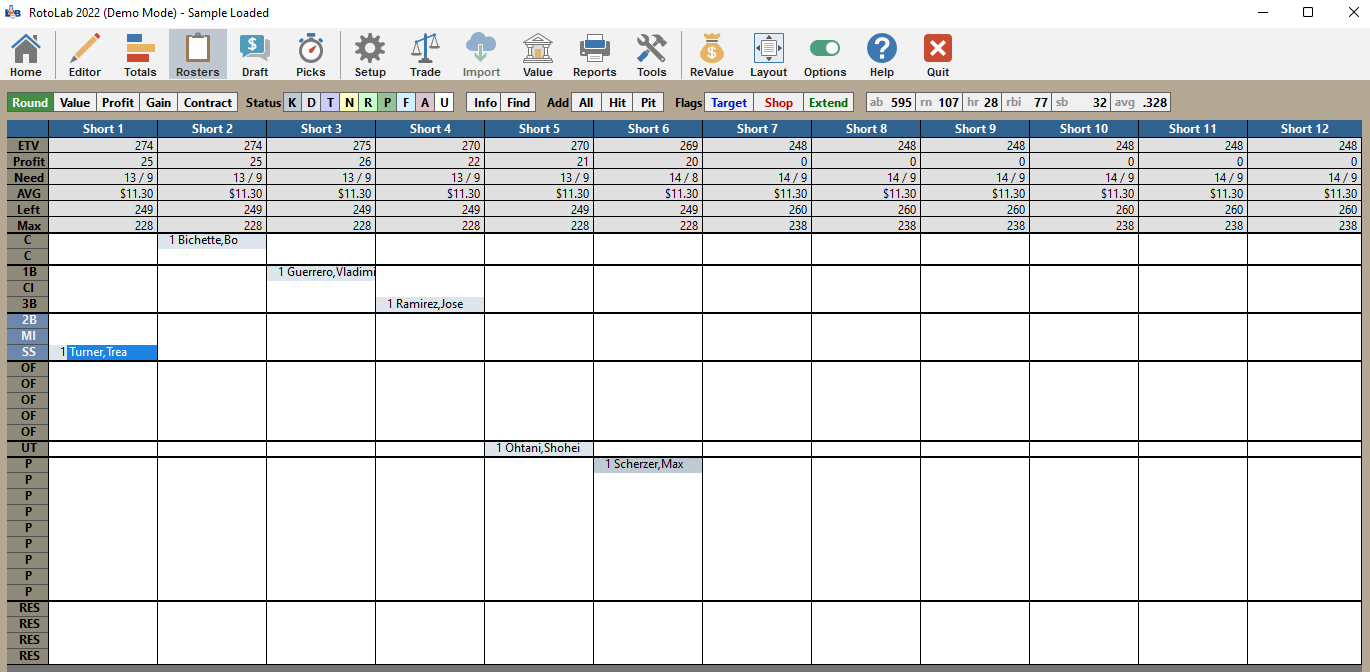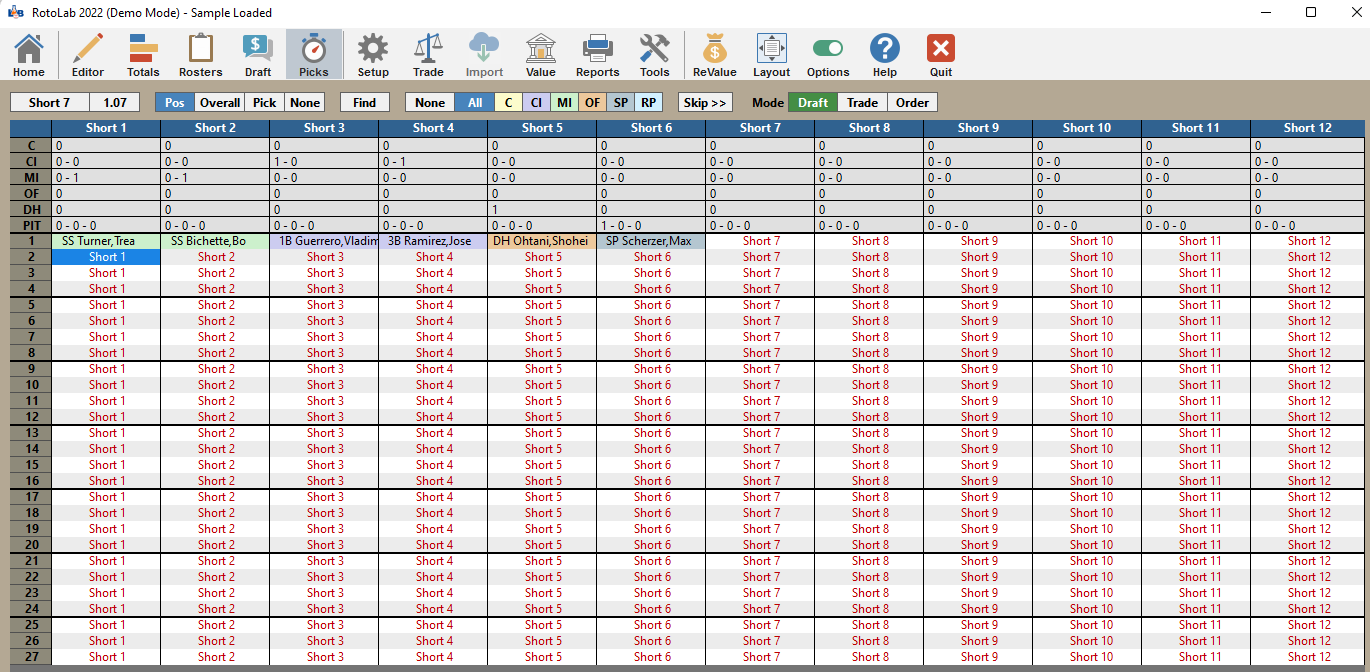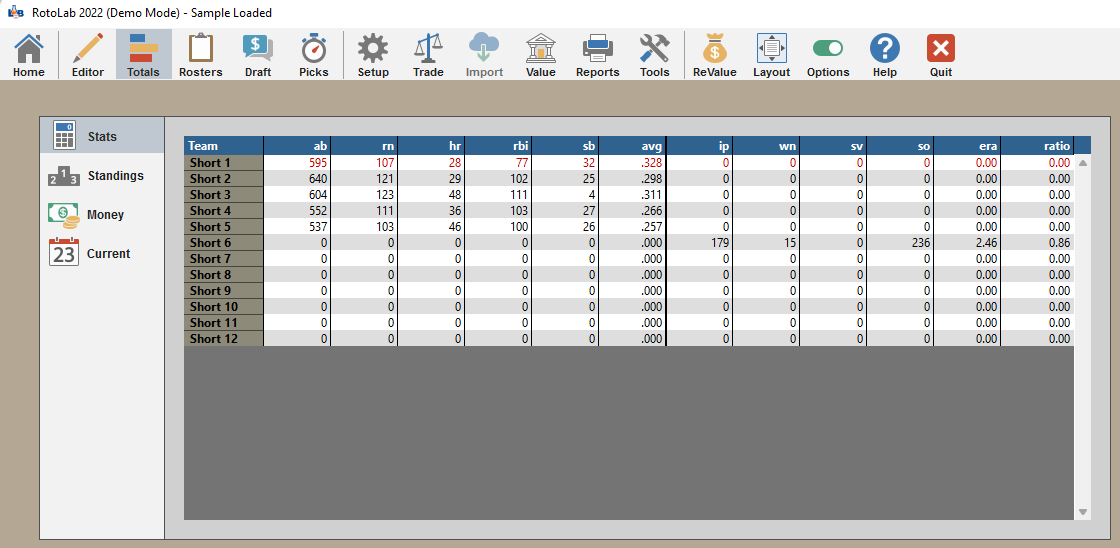 Good
The "Rosters" view is drag-and-drop to let you find the best arrangement of players at positions. Valid positions are highlighted but not enforced.
The "Rosters" view shows you the draft round for each player. (For auctions, you can toggle between showing the winning price, the projected value, or the savings.)
The "Picks" view is also drag-and-drop, which lets you correct for entry errors.
The "Picks" view is color-coded by position.
Bad
With any decent-sized monitor, there's lots of wasted space on the "Totals" page. Multiple totals ought to be shown together.
Projections and Valuation
The projections are from BaseballHQ, which is fine enough.
The valuations give you a choice of z-scores, SGP, or PVM. I've always been a big proponent of z-scores. However, the high-end values look a bit low to me (topping out at $37), so I'm not confident in the implementation. Fortunately, there's a slider in the settings that lets you move towards "stars and scrubs." Moving the evaluations in that direction helps give more realistic values. And all of that doesn't matter unless you're in an auction, of course.
Actually, RotoLab lets you tweak values in three very useful direction:
By category (e.g. increasing or decreasing the weighting for SB or SV to match your league tendencies)
By position (e.g. devaluing catchers to be in line with market rates)
By spread (the aforementioned slider between "spread the risk" and "stars and scrubs")
For a situation where you know what to expect from other drafters, a few nudges can really help optimize your values and rankings.
As a pretty minor quibble, I think I'd group the valuation settings with the league settings.
Good
Ships with reasonable projections that are good enough.
Good options for tweaking valuations for both positions, categories, and spread.
Bad
No choice in projection sources or for combining sources. Projections are editable, but I don't see a way to import.
Dashboard
In addition to those five big views, there are usually a few smaller views included on whatever draft screen is primary. This is what I've called the Dashboard.
RotoLab's primary screen is the Players by Position view, and that's where they have a dashboard across the top. This includes:
Category goal tracking - using manually set absolute goals
Player details - stats from the past 3 years and projected stats
Roster position tallies - which positions have been filled on which teams
Draft log
Budget summary - a breakdown of spend by position
Conclusion
RotoLab lacks an overall view of players, which I think is a disadvantage in a straight draft. However, it has a great "cheatsheet" view of players by position, which is sufficient for auctions.
RotoLab has a ton of powerful options and ways to tag players, but they tend to buried in a poorly designed UI. Dragging and dropping players makes fixing draft-entry errors much easier.
I wish it had more flexibility in projection sources. Their valuation algorithm supports lots of scoring formats, but (for auctions) their high-end values seem a bit low.
Features to match
A good Players by Position view with nice tiers.
Drag-and-drop players on Rosters and Draft Board.
Flexible tweaks for valuations
Ways to be better
Have an Overall Players view
Better choices in projections, including importing custom projections
Cleaner options
DraftKick is available now!
If you're still tracking your draft with a custom spreadsheet or even just pen and paper, you need to try DraftKick.
It is packed with features to help you succeed on draft day:
Projected availability
Keepers
Salary cap (auction) drafts
Custom league configuration
Editable projections
...and more
It's completely free to try out!